Sasha Robinson — is the founder of Master Art Studio, who has had a 20-year professional art career, from a working studio artist to an award winning Art Director/Group Supervisor in the advertising industry. She received many professional awards while working for several top global advertising agencies in New York City and New Jersey.
Sasha studied for dual majors in Fine Art and Fashion Design (6 full years), receiving her Master's degree from the Tbilisi State Academy of the Arts– one of the most prestigious colleges in the former Soviet Union. She also has an Art Teaching degree (K though 12) in the state of New Jersey.
She worked for exclusive Couture Evening Wear companies on Fashion Avenue in New York in the late eighties and nineties, while mastering computer art. She is proficient in the latest versions of computer art applications, such as Adobe Illustrator, Photoshop, InDesign, PowerPoint and many other popular computer graphics programs.
Sasha has been sharing her knowledge in her teaching studio for over 10 years. She is still an active freelancer, creating many computer generated projects for the professional advertising industry. Besides teaching she draws and paints on commission and exhibits her work in NJ and NY. Her works are in private collections in the USA, Russia, Belarus and Republic of Georgia.
As a mother of 2 children and a Bergen County resident for over 25 years, she is committed to bringing professional art instruction to her community.
Sasha passionately believes in the phrase "Start expressing yourself thought art – it makes people happy!"
Tea Toidze (pronounced as Tey-ah) — national of Georgia (former Soviet union) was born in the family of artists. Her great grand- father Mose Toidze,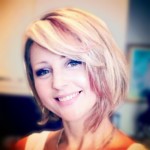 grand-father Irakli Toidze and father Givi Toidze  are all well-known Georgian artists. Their work were exhibited in the most prestigious galleries and featured in private and public collections worldwide.
Ms. Toidze holds a Master Degree in Fine and Monumental-Decorative Art and Design from Tbilisi, Georgia State Academy of Fine Arts, graduated with honors and therefore, as an excellent student. She was recipient of presidential scholarship award and carried a President's stipend. Tea participated in many art & photo exhibitions worldwide, she carries all the characteristics of a great teacher. Therefore she has immense teaching experience.
She started her art carrier in Georgia and continued after  immigrating in US. After many years of painting in oils, she moved forward, experimenting different art technics. She was deeply interested in the effects of color, texture and the emotional response to strong composition and design.
Tea's  work is a bold mix of styles, ranging from sleek and contemporary to weathered and organic. She brings a subtle and sophisticated feel to her paintings through a unique balance of color, composition and texture. Tea continues her creative carrier in US. We are very happy to have such a talented and knowledgeable teacher/artist working with us.
Kyeong Keun No — Email kyeongartist@gmail.com  Instagram www.intagram.com/kyeongkeun.no
Education Background
2003 Graduate from Hong-ik University, Major by Ceramics Art, Korea
2008-2012 National Academy School of Fine Art, Drawing and Painting, USA
2009, 2010 Art Student League, Drawing and Painting, USA
2015 Graduate from New York Academy of Fine Art, Major by Painting, USA
Professional Objective
1995-1996 Art and Soul Art School, Teaching Water color and Cast Drawing, Korea
1998-2001 Best Creative Art School, Teaching Water color and Cast Drawing, Korea
2002 Morning of Creative Art School, Teaching Water color, Korea
2003-2004 Hwarangdo Art School, Teaching Cast Drawing, Korea
2004 Private Atelier, Teaching Cast Drawing, Korea
2005-2007, 2011 New York Yewon Art School, Teaching Drawing, USA
2008 Universal Art School, Teaching Portfolio, USA
2013 Korean Community Center, Teaching Ceramics Art, USA
2013-Present Private Class, Teaching Painting, USA
2016-2018 Art Lines Gallery, Curator, USA
2018-Present Master Art Studio, Instructor, USA
Awards
2002 Scholarship, Hong-ik University, Korea
2009-2011 Scholarship competition four times, National Academy, USA
2010 First Prize of Figure, National Academy, USA
2012 Year-End Exhibition Prize of Drawing, Portrait, National Academy,USA
2014 Portrait Scholarship, New York Academy of Fine Art, USA
Exhibitions
2002 Korea, China, Japan Ceramic Exchange Exhibition, Korea
2015 Take home a nude, Sotheby, USA
2015, 2016 Group Exhibition, Panepinto Fine Art, USA
2017 Power of Silence Group show, Art Lines Gallery, USA
Anatoly Chernishov — was born in 1947 in Eberswald, East Germany. His family moved back to Soviet Union when
he was 2 years old. He studied for six full years and graduated with a Master of Fine Arts degree, with Honors, from the Tbilisi State Academy of the Arts in Tbilisi, Georgia, USSR. Right after college Anatoly established himself in the USSR as a promising young artist and became a member of a "Georgian Art Union" – an achievement usually reserved for more mature artists.
From 1970 to 1978 Chernishov's art was shown in exhibitions, museums and galleries across many republics of the Soviet Union. The list of galleries and museums that exhibited his work include:
• The State Russian Museum in St. Petersburg
• Galleries in Tbilisi, Moscow, Leningrad (Saint Petersburg), Riga and Kiev
But Anatoly has had bigger ambitions for his work.
He came to the United States in 1978 as a refugee in search of creative freedom. Leaving behind his family, friends and a successful, established career.
After settling in the Bronx, NY he has built his career up from the very bottom to become a highly sought-after freelance artist and illustrator. He was one of the first artists who transitioned in the early1990's from traditional and airbrush art to computer generated art. His clients include prestigious advertising agencies and publications worldwide such as Mercedes Benz, Footlocker, Saatchi & Saatchi and many others. Anatoly is also a Certified Medical Illustrator.
Since 1988 Anatoly moved to Bergen County and continued to work from his home studio in Mahwah, New Jersey. He was able to concentrate more on painting and creating art for himself.
Painting portraits has been Anatoly's passion since he was about 10 years old. After establishing himself in commercial art he continues to master new techniques and textures in several traditional media including: oil, acrylic, pastel and charcoals.
After obtaining commercial success for the past 25 years, he has again begun painting portraits on commission. Anatoly Chernishov's works are in private and public collections in the USA, Russia, Latvia, Republic of Georgia and Germany. He has been a mentor and inspiration for many creative people since 1970.
We are very happy and fortunate to have Anatoly as one of our professional instructors.