Our goal is to offer a "home" for creative people ages 6+ to adult, where they can enjoy learning under the instruction of professional artists who are passionate about teaching.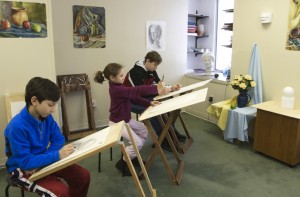 We are unique, in that our instructors have many years of experience and have achieved recognition in the professional creative arena. They received a minimum of their Master's degree in art studies. We are grateful to have such accomplished professionals in our New Jersey studio!
We base our teaching on the "Learning Foundation" of traditional master's techniques. Once you have this knowledge, you can transfer it into any creative expression in the art field of your choice. Almost all famous artists have this traditional foundation, which they took to the maximum with their creative imagination. Our goal is to give you this foundation, as well as inspire and support you in your creative journey!
Everyone gets personal attention and instruction, as our classes are limited to 8 students.
We welcome everyone with the desire to express themselves creatively!